Pivot Festival returned to the Yukon. The 2019 festival spanned over 16 days, bringing comedy, theatre and storytelling to Whitehorse and Dawson City.
Thursday January 10 - 8pm, Yukon Arts Centre, Whitehorse
Trader Time was written by Coyote, a born-and-raised third-generation Yukoner, and scored by Swedish-born Yukon recording artist and songwriter MacDougall. Earlier editions of the show had sold-out performances it the 2018 Pivot Festival and Atlin Arts and Music Festival.
Yukon's Ivan Coyote and Sarah MacDougall return to Whitehorse with their hit show, this time with a band. Trader Time blends story, songs and visuals to create a haunting and sometimes hilarious series of interconnected stories, that meander through small-town big-family politics, growing up queer in a cold, cold place, the life and deaths of two very different matriarchs, and some of the secrets buried in the permafrost.
Pivot Story Crawl
January 15, 2019 7-11pm, Local Bars, Whitehorse — starting at the Woodcutter's Blanket (112 Strickland)
Free
Now in its third year running, Pivot Festival's Story Crawl is a pub crawl with each bar stop featuring a performance from one of four local storytellers. The format of the Story Crawl allows unexpected encounters in familiar spaces, highlighting the importance of storytelling to the way we interact and come together in social spaces. From the Woodcutter's Blanket, Antoinette's, the Town & Mountain, and ending at the Gold Rush, relax and be magnetized by this year's storytellers — Peter Jickling, Lily Gontard, Meagan Deuling, and Nicole Bauberger. We have a special sponsorship with Yukon Brewing this year, where the first 15 participants of the Story Crawl will get a free custom Pivot Festival toque!
The Sufferettes
January 11 in Dawson
January 17th with musical accompaniment by Jennihouse — Whitehorse
January 18th and burlesque dancers — Whitehorse
January 19th with local comedians — Whitehorse
The Sufferettes are a Toronto-based, award-winning comedy troupe of Becky Johnson and Kayla Lorette. The duo's performance goes beyond the ordinary for a great experience and so many laughs. They bring their intelligent and quirky improv to audiences around the world, including London, Edmonton, Rochester, Toronto, Sarnen (Switzerland), Ljubljana (Slovenia), Frankfurt, Marburg, Bochum, Berlin, and Karlsruhe.
The pair will host improv workshops in Dawson City and Whitehorse, and local improvisors will join them on stage in Whitehorse. Each show guaranteed to be different!

Performances
January 11, 2019, KIAC, Dawson City
8pm January 17-19, 2019, Old Fire Hall, Whitehorse
Workshops
January 10, 2019, KIAC, Dawson City
January 16 (6pm) and January 19 (2pm), 2019, Improv Workshops, Old Fire Hall, Whitehorse
L'Homme De Hus
Friday January 25 – 7pm, Yukon Arts Centre, Whitehorse
Saturday January 26 – 4pm, Yukon Arts Centre, Whitehorse
Camille Boitel and Company Immédiat return to Whitehorse and the Pivot Festival this winter on their L'Homme De Hus North American tour. The one-hour, one-man show follows a philosopher clown as he moves through a world of pitfalls, dealing with unpredictable consequences he can't escape. L'Homme De Hus echoes the unique world Boitel brought to Whitehorse audiences on his first Canadian tour with his show L'Immediat in 2016.
A partnership with the Yukon Arts Centre, Vancouver's PuSh Festival and Théâatre La Chapelle in Montreal.
Pivotal Conversations
January 20, 2019 1-5pm, Old Fire Hall, Whitehorse - Free (Pre-registration required)
The half-day gathering builds on the success of last year's conversation – a meaningful exchange of creative ideas between local artists and arts leaders that expanded beyond day-to-day interactions. The workshop takes a peer-to-peer and participant-driven approach to discussions, which created enthusiasm and delivered concrete outcomes. The workshop takes a peer-to-peer and participant-driven approach to discussions, which created enthusiasm and delivered concrete outcomes. The structure of the workshop builds on Jacob Zimmer's work providing leadership for conferences, Open Space meetings, and designing and facilitating leadership development with Banff Centre Arts & Creativity and other organizations across the country.
As part of Pivot, we'll convene different kinds of conversation:
Conversations about the futures and opportunities and needs for the arts in Whitehorse and the Yukon. We'll leave room for "day of" inspiration but you can expect conversations like:
What support do Yukon theatre makers need?

How can we best share resources to succeed?

More organizations or more organization?

How can the arts contribute to questions of land use, climate change and social cohesion?

What does success look like to you?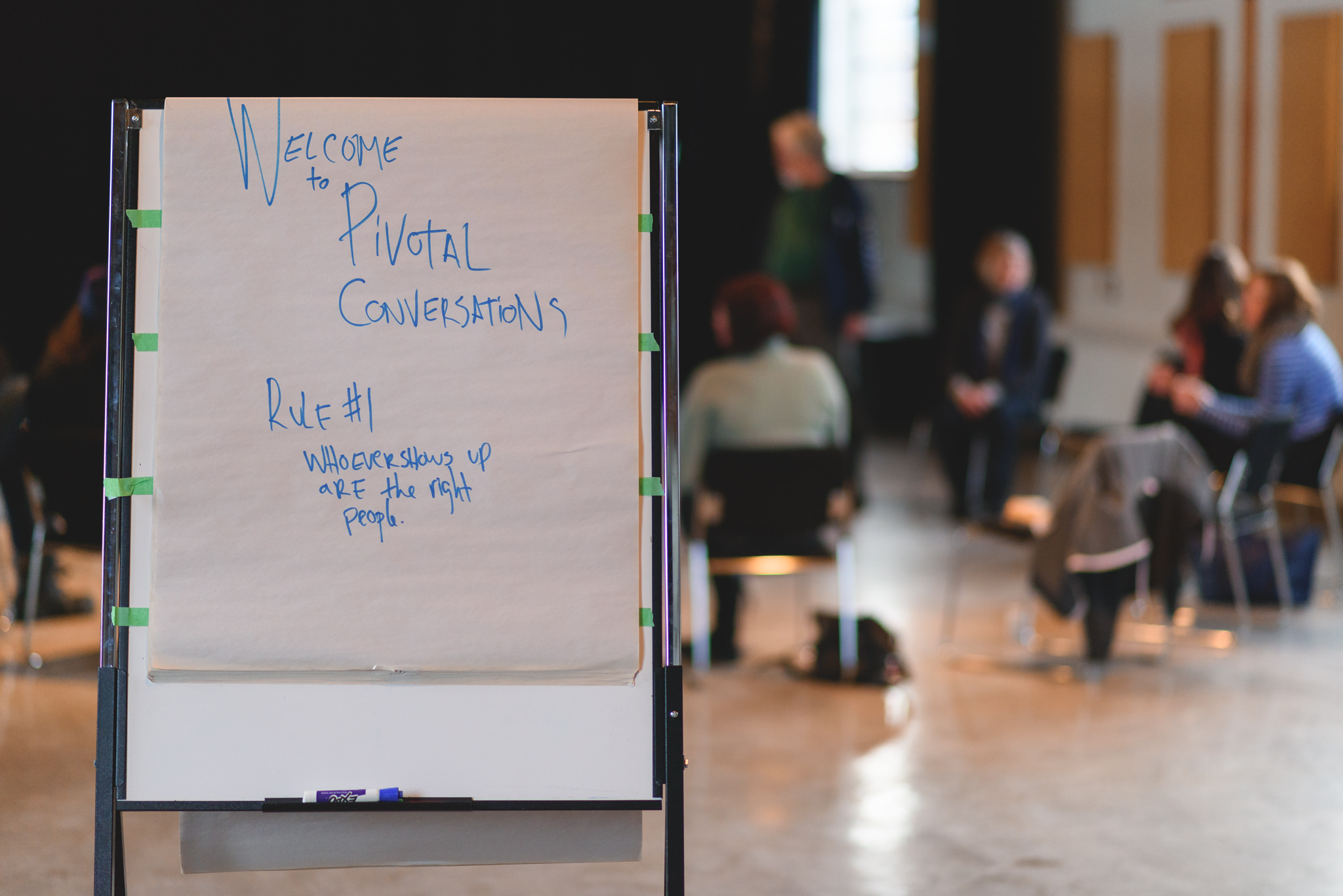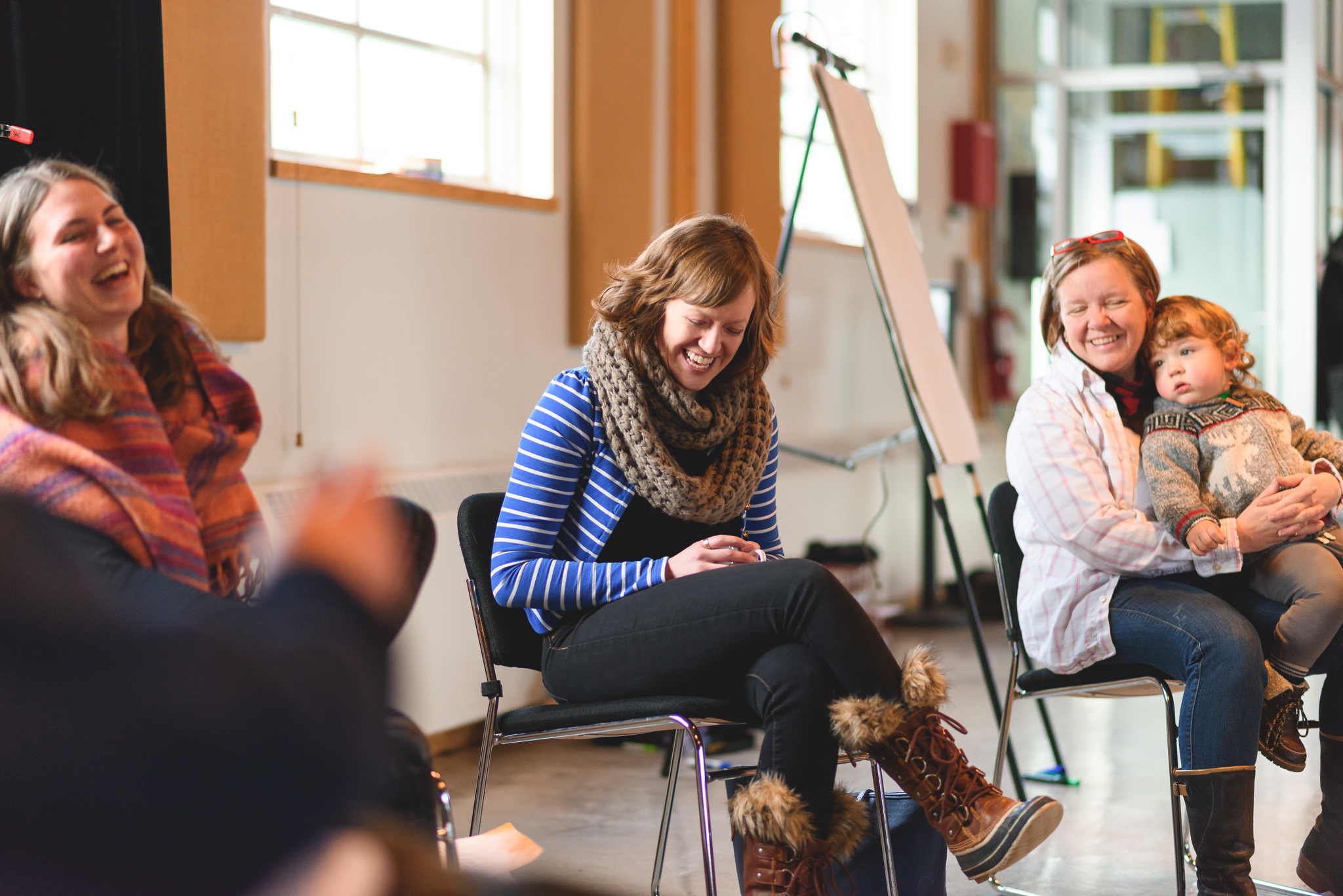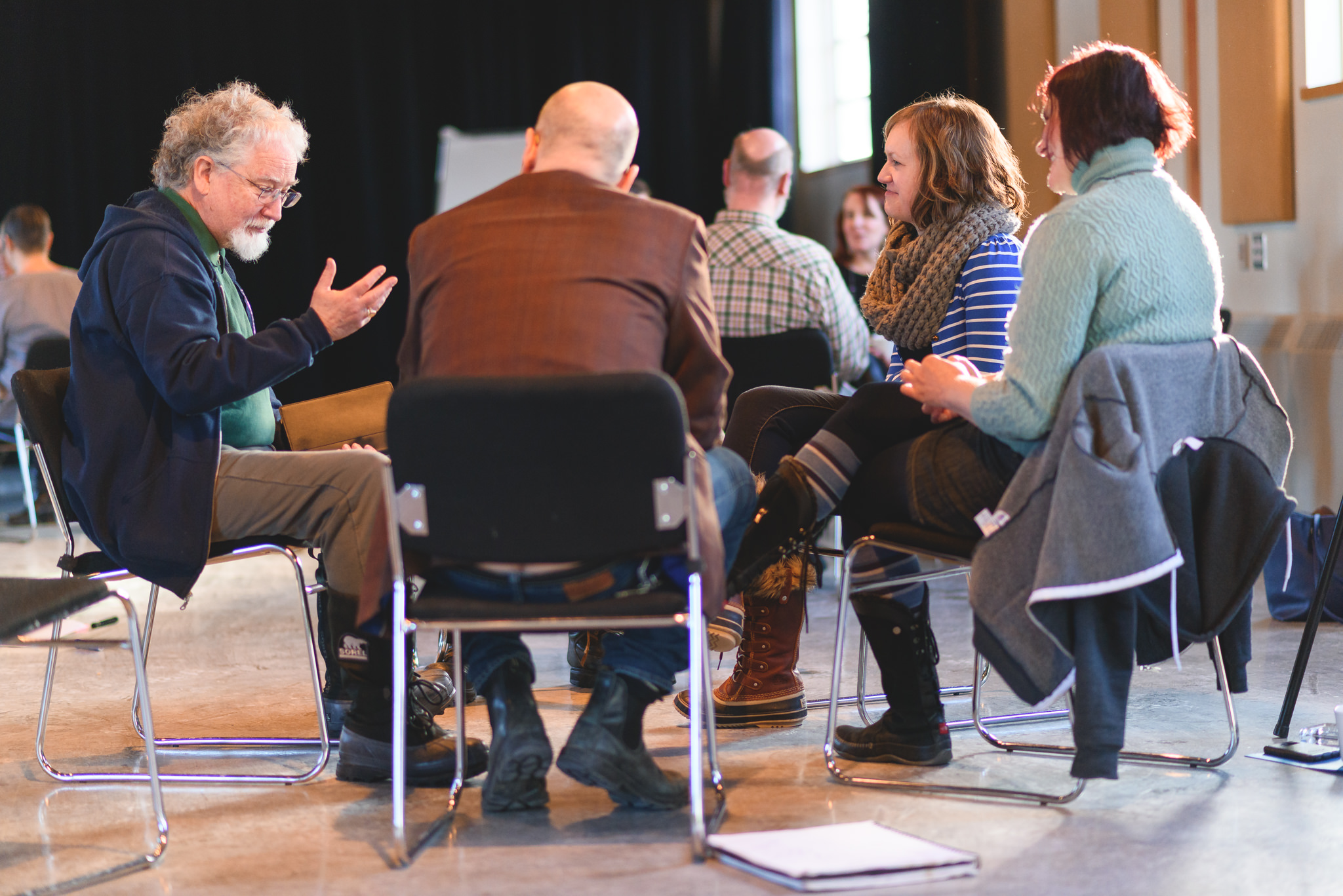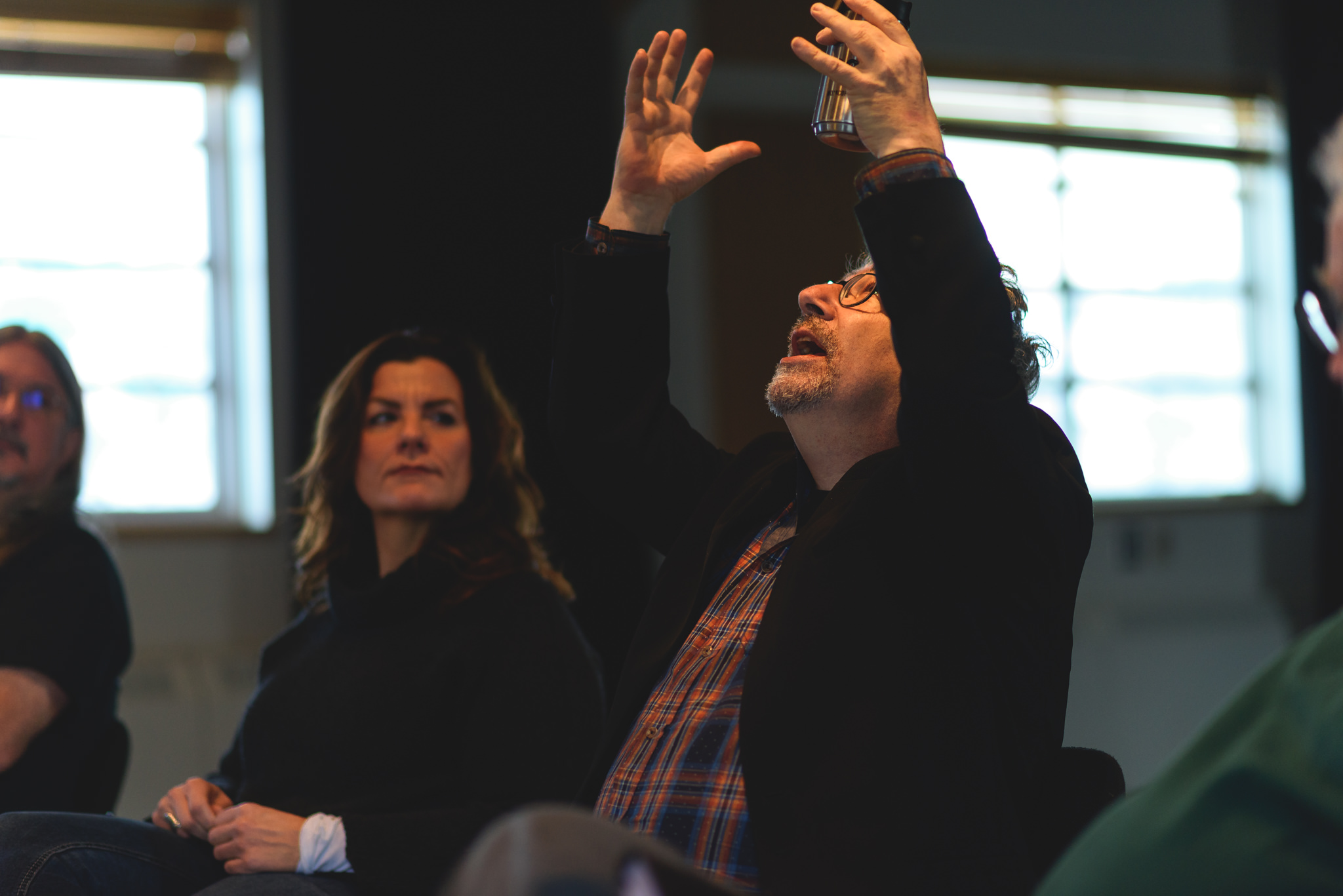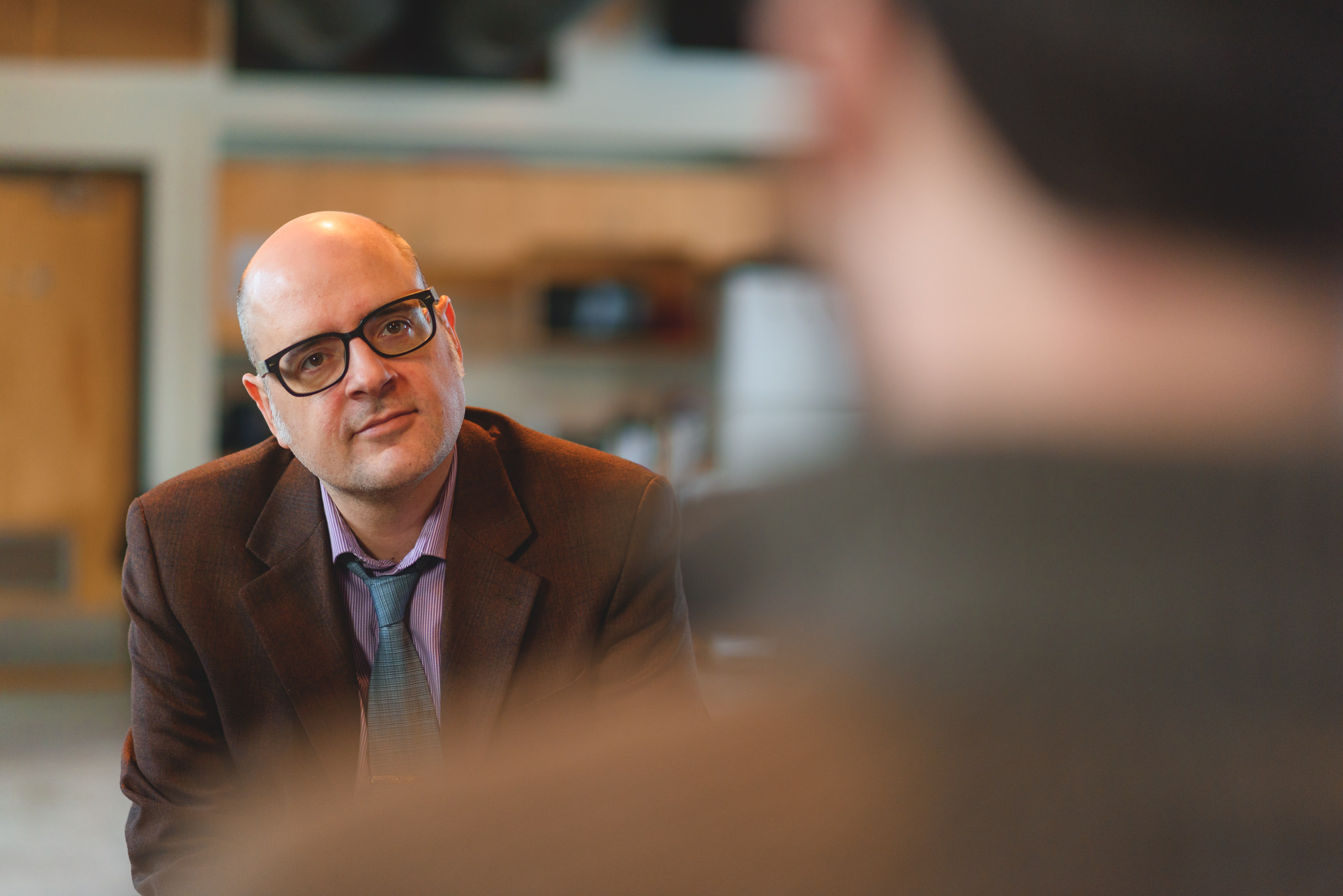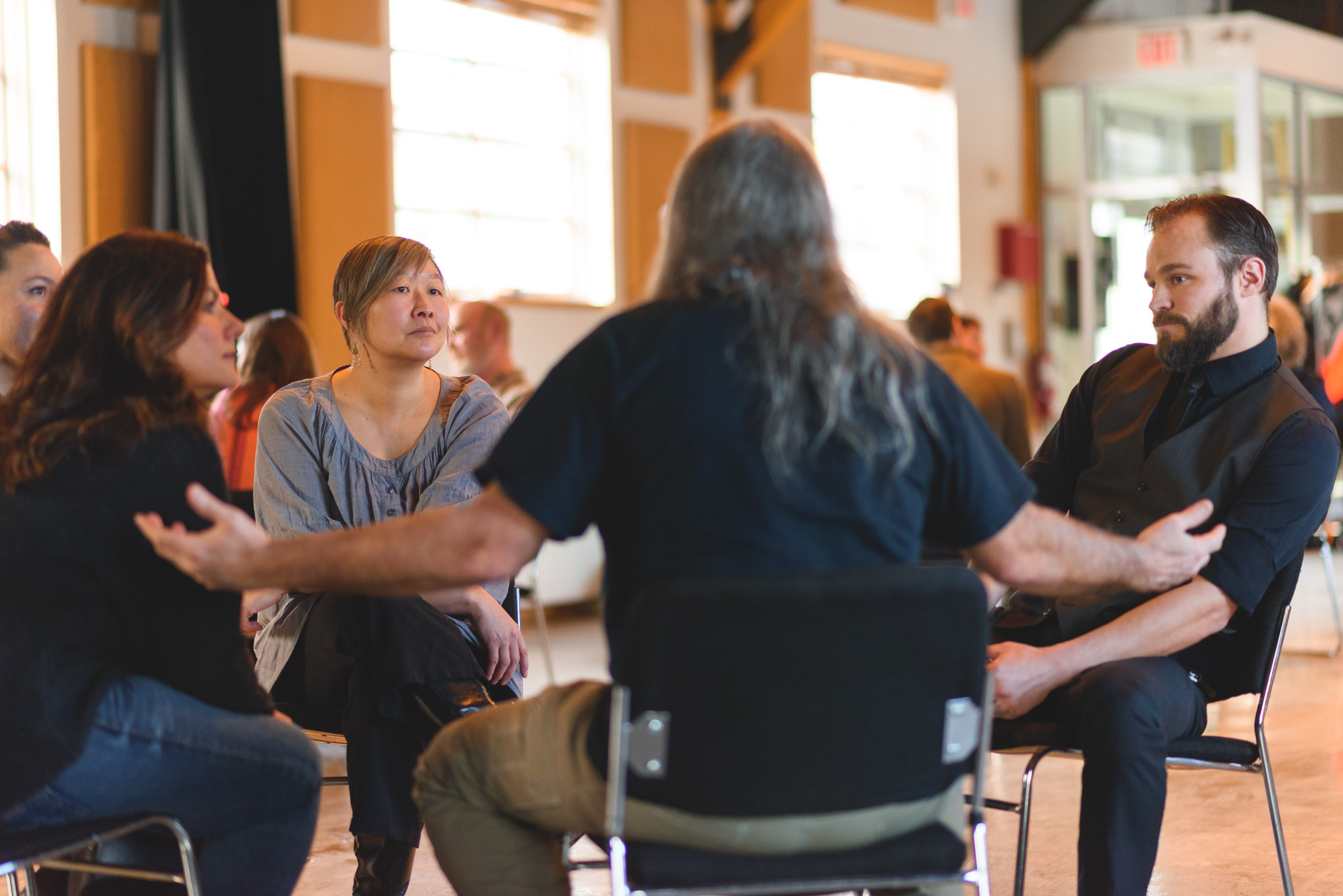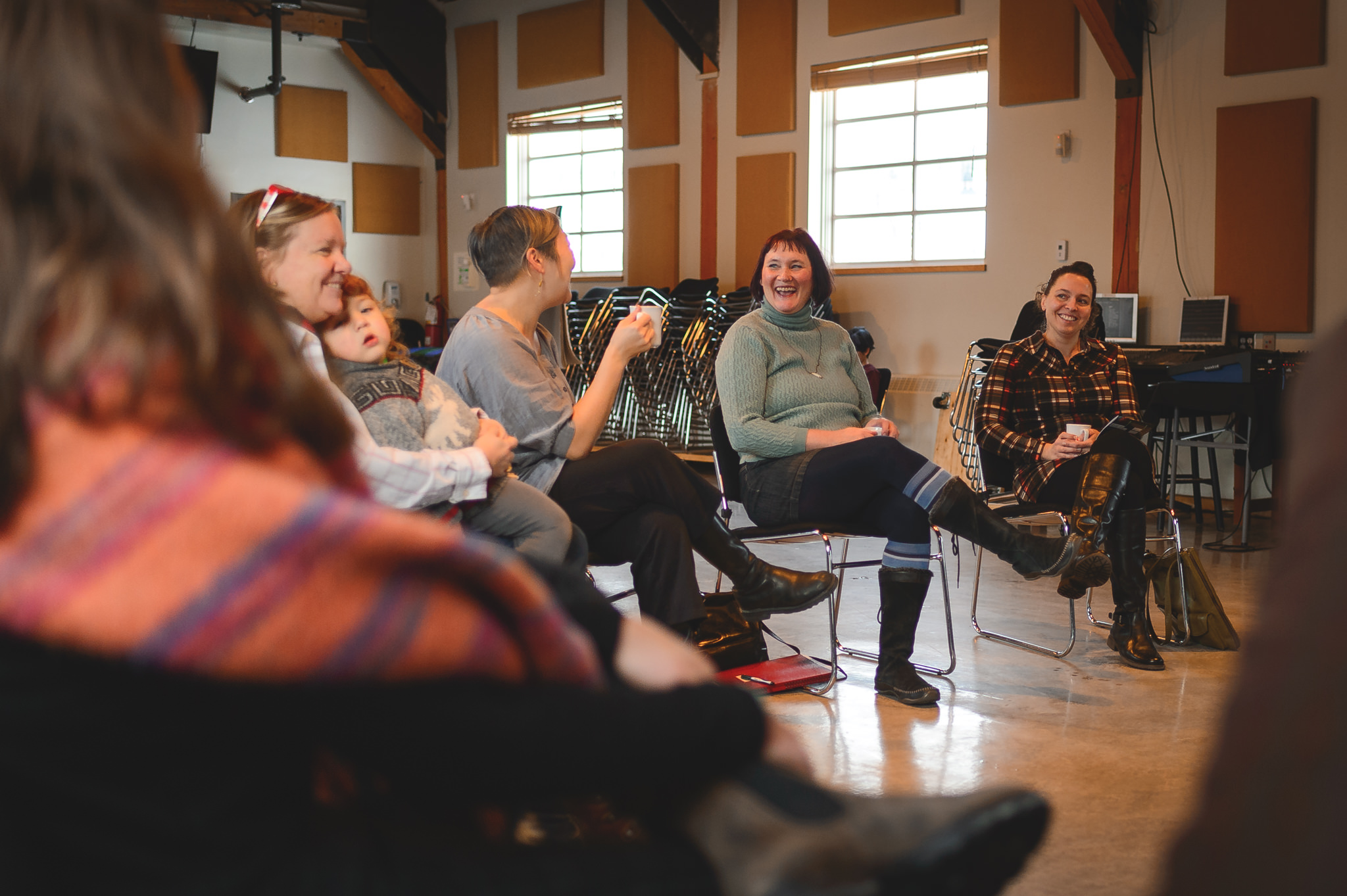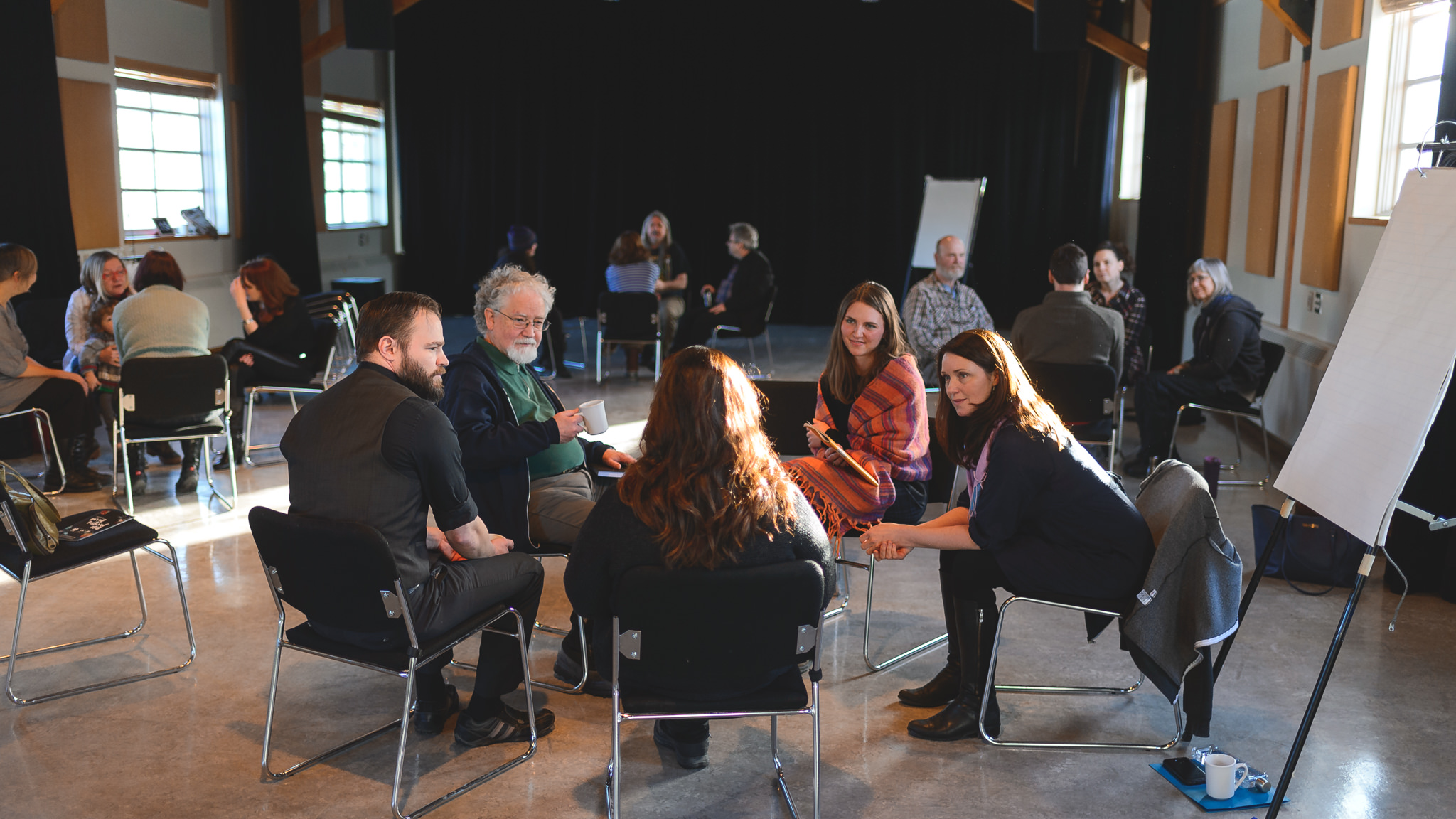 Pivotal Words
January 22, 2019 7:30pm, Whitehorse — at the North of Ordinary Experience Centre (4201 4 Ave #200)
Entry by Donation
A partnership with Brave New Words in which local writers and performers are invited to share their stories. The evening is curated by Peter Jickling and brings together musicians, storytellers, comedians and poets. This year's hard-hitting literary line-up includes poet Michael Eden Reynolds, playwright Patti Flather, writer Eva Holland, writer Susanne Hingley, as well as musical performances by Claire Ness.
ABOUT THE FESTIVAL
Heading into its 11th year, Nakai Theatre's Pivot Festival is a highlight of the Yukon theatre season, presenting some of Canada's most innovative and engaging performances. Pivot invites us to connect with people and theatre close to home and from around the world. The festival transcends our assumptions about theatre by mixing inspirational productions, revisiting crowd favourites, and opportunities to join in the creative fun.
About Nakai Theatre
Nakai Theatre, based in Whitehorse, Yukon, Canada, is dedicated to contributing to a thriving Yukon Territory through remarkable theatre and uncommon events.
We are proud to be part of a Yukon Territory where Indigenous peoples, settlers, and newcomers share the land, interpret our connections to the landscapes, and share our knowledge and experiences through theatre with each other and with the world.

About the Yukon Arts Centre
The Yukon Arts Centre (YAC) is a creative resource for Northern artists, reflecting and supporting the artistic ambition and aesthetic of Yukon community organizations. To learn more about YAC's arts and culture programing and their unique facilities, please visit; yukonartscentre.com

Pivot Festival Supporters and Sponsors
Nakai Theatre would like to recognize the support of its public sponsors: Government of Canada, Department of Canadian Heritage, Canada Council for the Arts, Yukon Arts Operating Fund, Department of Tourism and Culture, with support from the Yukon Lottery Commission, and the City of Whitehorse. We would also like to recognize the sponsorships from Yukon Arts Centre, Northern Vision Development, Air North, Yukon News, What's Up Yukon, and CKRW The Rush.